Creating Effective Blended Language Learning Courses: A Research-Based Guide from Planning to Evaluation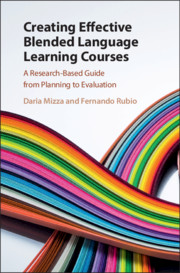 Blended language courses, which combine face-to-face and online instruction, are becoming increasingly popular due to the need for more flexible yet effective learning opportunities. This book recognizes the associated opportunities and challenges for teachers, and provides the rationale, strategies and tools to design blended learning courses or to guide the transition from fully face-to-face or fully online courses to blended instruction. The authors propose a framework based on four phases, Design, Build, Teach and Evaluate, which facilitates a systematic approach to course development. The volume simplifies the connection between theory and practice, by including examples that readers can relate to and immediately implement as they build or teach a course. Including case studies of successful implementations, and effective instructional strategies and techniques, this book is accessible even for teachers without previous experience in course design, whilst also acting as a reference for more experienced language educators.
Click here for more information.