New Faculty Book Spotlights Power of Women in Ancient Egypt
F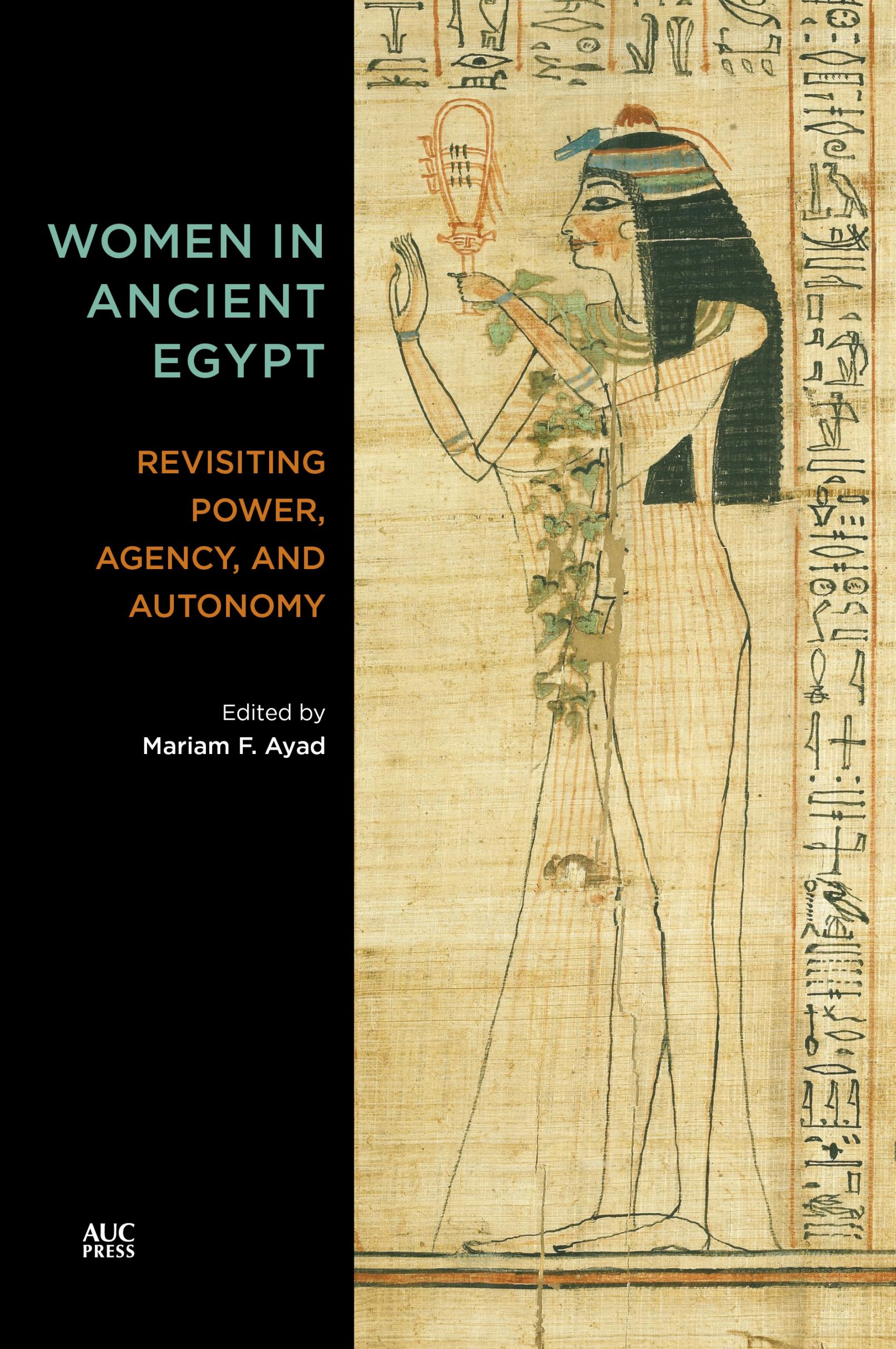 rom Hatshepsut and Nefertiti to everyday women from the artisan village of Deir el-Medina, a new volume edited by Mariam Ayad '94, associate professor in AUC's Department of Sociology, Egyptology and Anthropology, offers a comprehensive look into the autonomy of women in ancient Egyptian society.
Women in Ancient Egypt: Revisiting Power, Agency, and Autonomy (AUC Press, 2022) is the result of a 2019 conference held at AUC, during which Ayad and fellow scholars and Egyptologists discussed their research and findings on women in ancient Egypt across multiple domains such as law, portrayal in literature and access to power. Following the conference, Ayad began compiling and editing the book.
"The volume provides an in-depth exploration of several facets of the female experience in ancient Egypt, examining their participation in the economic domain, their professional capacity and identity," she explained. "Many of the papers in this volume are the result of recent doctoral research by their authors, so it really is hot-off-the-press, cutting-edge research."
News@AUC sat down with Ayad to learn more about the book.
Could you describe the book in a few sentences?
The volume is a collection of about 24 essays offering a corrective perspective on women in ancient Egypt. Each chapter delves into a specific case study, focusing on a particular period in time or historical figure. The essays show plenty of evidence for female agency in ancient Egypt, spanning the earliest eras all the way to the Late Antique period.
What piqued your interest in this project?
My interest in ancient Egyptian women started early on; I did my dissertation and my first book on the women who held the title of God's Wife of Amun. These were women of power who had religious access, who were single, as far as we know, and yet they were on par with the king in temple ritual. So there was already this idea that women had more access to power than they're typically given credit for.
How did the idea for the conference and book come about?
The idea for the conference and subsequent book stemmed from my frustration with gender bias in Egyptology. Although today the majority of Egyptologists are female, it's clear that many "facts" about women in ancient Egypt are not true and were actually tailored to the preconceived notions of white, middle-aged, male Western scholars.
Can you give us an example of this bias?
Powerful women like Queen Hatshepsut are seen as pawns in the hands of powerful men who operated behind the scenes. Again, there's no evidence for that at all, not really.
Specifically, Hatshepsut is rumored to have had a sexual relationship with her chief architect, Senenmut, who was responsible for the building of her funerary temple at Deir al-Bahari; however, there is no evidence indicating that they were connected in that way. In fact, her claim to power relied on her appointment of several key officials — not just this man — who held religious, economic and military positions in various domains, and in this way, she had a finger in each pot.
Would you say that the misrepresentation of women's power in history is common among scholars?
Yes. A major pet peeve of mine is the scholarly bias against evidence of female agency, whether it's in ancient Egypt or Coptic Egypt. Often it is assumed that women were powerless and couldn't do anything when in fact, in ancient Egypt, women owned and inherited property, initiated divorce and sat on city councils.
You have an impressive background in Egyptology. Did you learn anything new while working on this book?
I learned a lot from every single contribution. Whether it's how females chose to be represented in their funerary papyri or the significance of tattoos on the bodies of female mummies, there was something new for me in each chapter.
Do you plan to use the book in your classes at AUC?
Yes! In fact, I am teaching a course on women in ancient Egypt at AUC this spring, and I'm using almost all of the contributions in this book as part of the readings for the course.
What else are you working on right now?
There are two main projects. The first is an entire volume that looks into the misrepresentation of ancient Egyptian women in previous scholarship, which I am co-authoring with Jaqueline Williamson and Sue Kelly. Rather than provide a history of women from scratch, our approach is to examine/highlight case studies where evidence pertaining to women in ancient Egypt has been misrepresented. This will be published by the Liverpool University Press.
The second project is an anthology of texts in translation that deal with women in ancient Egypt. It would be a companion to Women in Ancient Egypt. I started work on this because I wanted my students to be able to read about ancient Egyptian women in their own words.
How has living in Egypt and teaching at AUC impacted your research and work in this field?
Teaching at AUC and living in Cairo has been really advantageous for my fieldwork. I can go to Luxor for a weekend to work on the tomb of a female scribe and come back in time to teach without having to deal with the burdensome logistics of international travel, jet lag and taking time off of work.